Hammond Dental Care | Cosmetic and Implant Dentistry
Welcome to Hammond Dental Care, two neighborhood dental offices dedicated to gentle high quality affordable dental care. We hope our website will be helpful to you in making important decisions about your family's dental care. We have dedicated our practices to the long-term health, comprehensive treatment and tender care of our patients. We feel that too many dental offices do not take the time to educate patients about their dental health, but just concentrate on expensive and invasive procedures. Instead, we pride ourselves on the conservative quality dental care we provide for the families of Glendale and Surprise.
After you have looked around our site, we invite you to call or come by our offices if you have any questions or would like to make an appointment. We look forward to meeting you and your family.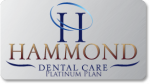 Learn about the exclusive Hammond Dental Care Platinum Plan.
Save up to 60% on dental treatment!
Click Here